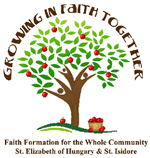 Welcome to Growing Together in Faith (GIFT) in the Apple Valley Catholic Collaborative (St. Isidore, Stow and St. Elizabeth of Hungary, Acton/Boxboro
Responding to the Gospel and Pope Francis' call for a new evangelization, St. Elizabeth of Hungary and St. Isidore parishes use a liturgy-centered, lifelong, and intergenerational approach to Catholic faith formation. For the last 11 years, this has been known as Generations of Faith (GOF).
As we celebrate the collaboration of our two faith communities and recognition of all that encompasses faith formation, the time has come to embrace a name that more closely reflects our mission and practice: Growing in Faith Together. Some of what you will experience in GIFT will be similar to past GOF experiences. However, we are now able to offer a variety of intergenerational experiences, including shared events in both parishes, collaborative breakout events, and shared liturgical experiences.
Our goal, as always, is to help everyone become a better disciple by integrating faith, worship, and life in light of the Gospel. We invite you to participate! All are welcome, especially our adults—whether you have children in the program or not! In addition to parents, this includes young adults, single adults, grandparents, empty nesters, and retirees.

Faith Formation 2019-2020 Registration Form
Changes to GIFT Schedule and Locations
We are blessed to have two churches within our Collaborative that offer different types of spaces to meet our various needs. To that end, after lots of prayer and consideration of feedback from participants and volunteers, we have shifted the times and locations of GIFT to better suit our mission and the needs of the program:
The length of the monthly GIFT sessions has been reduced to from 2.5 to 2 hours
The three GIFT session offered each month will be:
Wednesday evenings at 5:30 PM
Sundays after the 10:45 AM Mass (approx. 11:45 AM)
Sundays after the 5:00 PM Mass (approx. 6 PM)
The monthly sessions of GIFT, from September – February will all be held at the Parish Center Hall at St. Elizabeth. The three special events in March and April will all be held at St. Isidore.
All sessions are open to participants from both parishes. Session leaders will include staff and volunteers from both communities. The program will be the same for all sessions in both parishes. All begin promptly. Please arrive in time to be ready to pray the table blessing at the starting time. If you are unable to attend your regular session, you may come to any of the other sessions that month, if there is room. Please contact Barbara Dane at jhmin@seoh.org to arrange a switch.
Sacramental Preparation Registration
If your child will be preparing for a sacrament this year, simply check the appropriate box on the GIFT registration form and include the indicated fee with your registration. You will then be contacted directly by the sacramental coordinator regarding program details and any other information needed for sacramental preparation.
REMEMBER: ALL ARE WELCOME!
Growing Together in Faith is for EVERYONE: toddlers, retirees, families with children, empty nesters, Confirmation candidates, high schoolers, middle schoolers, singles, couples, new parents, aunts, uncles, grandparents, godparents, interfaith families, newcomers, and visitors.